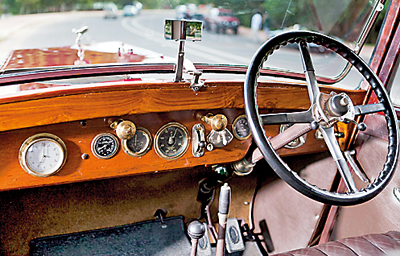 Step into the driver's seat of a pre-World War II car and find yourself in a very foreign world. The dashboard sports no buttons, save in a few odd American cars. No gadgets and few instruments. It should all be simple and straight forward. Put your key into the column, turn, and voila! Nothing happens. Nowadays keys, in everything other than cars, unlock things. Back then they unlocked the controls to your car, but did not start it.
To start it turn the fuel intake up all the way, pull the Spark lever on the wheel down to retard, and push the starter button. If your car is a Rolls-Royce or a few other quirky models you cannot start the car with just the battery. Turn the power switch from Battery to Battery & Magneto. Then press start, turn up the spark, slowly lower the throttle back to a normal level, and switch the power back to battery. The first few disparate metal pangs will overcome you with the ominous feeling something is very wrong until the front jumps, the sounds increase in frequency, and the engine finally turns over. Old cars are just great.
My father nurtured my interest in antique automobiles. When he was my age he collected classic cars and other antique vehicles. A "classic car" is not synonymous with antiquity or popular sentiment. A classic car is a high priced, limited edition car made between 1925 and 1948. His parents bought him his first car, a 1939 Ford Deluxe, at age 13 hoping that if he was "working on it" in the garage he would stay away from the local gangs. It worked and fostered a very contagious obsession. In the 1960s the cars we now call classics were remarkably cheap to purchase. Lightyears removed from contemporary vehicles in design and features, classics were tall, sported pronounced fenders, lacked power steering, rarely made over 200 horsepower, and were difficult to brake. Moreover, they predated the standardization of car production after World War II, meaning repairs and maintenance were expensive. In his 20s my father owned both a V-12 and a V-16 Cadillac, a Lincoln KB, a Rolls Phantom II, a Model A Ford, a Packard, and a few other collectibles in addition to his more road worthy '57 Chevy Bel Air and '63 Corvette Stingray. Like most men at the time, before student loan debt saddled those in their 20s with financial limitation, my father found cars were fun and met the male need for mechanical relationships.
Men love machines. Why? The machine is man's escape. We rarely confront our emotions like women, probably because we are less self-reflective. For all my ego I do not spend much time thinking about myself or my life other than in the shower, something I could say for most men I know. When life becomes difficult we tend to want to step outside ourselves and do something involved that does not require noise or thinking. A machine is the perfect solution. One fellow I knew used to mow his lawn whenever his wife bothered him. I go for a drive. Indeed, the liturgy itself is a kind of machine wherein one forgets one's self, one's problems, one's emotions and gives one's soul and mind to the ritual worship of the One Who Is. This is why men go to Vespers and women go to the Sacred Heart devotion on Fridays. Men are wired for machines it seems, which is perhaps why some of us find it so easy to appreciate fine automobiles even if we do not own them.
"The mighty Duesenberg", the best car made until
it went out of business because of the Depression.
Another facet of older cars that continues to fascinate me is the quality of the designs and execution, both mechanically and stylistically. Cars built for wealthier clientele, in contrast to modern cars for the rich, hardly ever resembled each other. A customer bought the chassis, engine, electrical system, and drivetrain, from the car company but a "coachbuilder" created the body. Coachbuilding died more or less after the War, surviving for a short period in England until 1964. Coachbuilding meant hand building. Indeed, the best cars at the time were all hand built, from Packard to Pierce Arrow. The car maker in Derby did not enjoy the distinct reputation for custom construction it does today. I often muse when the presenters of Top Gear do some gimmick with dated cars from the 1980s that in thirty years today's cars will not be on the road. They have too many damn computers, plastic parts, and non-mechanical bits to break. Old cars' simplicity helped ensure their longevity. Duesenberg (which in 1928 could do 100mph in second gear) managed to put reliable power brakes on cars with adjustable fluids long before anyone else. And of course Rolls-Royce never did anything revolutionary with their cars. They just made cars to a higher standard than anyone did until the 1980s, which is why over sixty percent of the cars they have made since 1904 are extant.
No....
Today's cars lack the same appeal to me, not just because they are eye soars in contrast to the elegant and graceful examples of yesteryear, but because they are too civilized, too computerized, too refined for me. As a lover of mechanical things, why would I want something that offers me no intimacy with the machinery? Even a 1950s American car that drives like a boat still has a tangible engine that can be "tinkered with" and some semblance of control by the driver. When strolling the town last weekend with a friend we happened upon a new Ferrari worth half a million dollars. That car has paddle shifters which imitate a manual shift without the exacting effort, a navigation system, and a racing mode that pushes all the power to the wheels when starting from a stand still. These features alienate the driver from his machine for the sake of performance which he will likely never use. I would not be surprised if the man who owned that car is a sixty year old businessman who needed a means of compensating for his recently lost libido.
Contemporary cars make the driver into a passenger with a round piece of composite fiber in front of him. Unlike my father, I will never own a V-16 car or a Stingray, but I can meet my masculine need for escapism by getting a manual shifter at least before the modernists take even that away from me.