A more robust sort of religion
source: newliturgicalmovement.org
I once held a more favorable view to the ordination of married men in the Latin Church, as was once a partial practice before St. Gregory VII in the West and still the custom of the East. Latin preference for ordaining continent, older men eventuated the contemporary practice of ordaining single, celibates who would live a quasi-monastic life as priests. In the East continence lost its luster among among married priests and deacons; it is not uncommon to congratulate Father Dimitrios or Father Dmitrievich on his latest family member. Aside from the callousness of telling the faithful priests in the Roman Church that he had needlessly sacrificed family life and informing the parish that they are now responsible for supporting a few more people, there would be an unmitigable mistake in replacing a spiritual outlook on the priesthood that dates seventeen centuries back to fix a contemporary problem. What problem is there now that would make a few of us consider the merits of alternatives to custom? Simply the fact that the priesthood has, in the twentieth century, become a breeding ground for creeps.
Leon Podles wrote extensively about various influences in Church history that, according to the writer, contributed to the effete clergy of today. Among these influences he counts St. Bernard of Clairvaux's bridal mysticism, which the saint developed when he was not promoting the crusader movement. In
Phoenix from the Ashes
HJA Sire ascribes the ubiquity of homosexuals to modern standards and lax discipline, which he believes began well before Pope John called Vatican II. The same Sire contrasts modern gay jokes about priests with the prior doubt that as a man a priest could be celibate, that Father
must
be seeing Ms. Whoever in the rectory.
At some level the gay issue is a local problem. It is not restricted to a few dioceses, but certain dioceses are much worse in this regard than others. In one diocese I met one gay priest in two decades. In another I had to go to another town to find one I could be certain was straight. One bishop can change an entire generation of clergy for the worse in a diocese. John Gregory Dunne's novel
True Confessions
relays a scene in which a Fr. Tracy asks his bishop, based clearly on Cardinal McIntrye, why he has not been made a pastor after twenty years as a priest; the archbishop replies flatly, "Because you're a homosexual."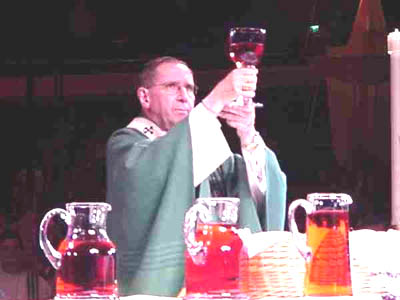 McIntyre's successor, a less robust kind of religion.
We can argue about how it began, but it might be more prudent to ask what might be done in general priestly formation to weed out the malefactors for future clergy. The most obvious answer is to make being a priest more difficult again. Parish clergy lived on the charity of farmers and maybe one local noble family prior to the Industrial Revolution; if one did not enter the priesthood or monastery from a noble family with the intention of gaining a red hat a priest could anticipate a fairly rough life. It was not an appealing life for someone looking to hide or to ruminate on one's self while living a furtively un-Catholic lifestyle. As dioceses shrink a modern possibility might be to give priests healthcare, insurance, and retirement benefits, but strip their
salaries
to a bare minimum; $33,000 may not seem like much, but when one has housing and benefits for free and only the duty to say a 30 minute Mass daily, that money becomes license for physical and spiritual sloth.
Another possible solution would involve a degree of liturgical reform, or at least sanctions against those who do not cooperate with a tightening of liturgical rubrics. Speaking anecdotally, priests who are "light in the loafers" tend to use the Mass as an opportunity to put on a show, be it an Opra-esque talk show or a sing-'n'-dance. Suppress the various permissions in the GIRM for celebrants to elaborate on the Mass, turn the altars around, and perhaps even add a language—like that one spoken in ancient Rome—that disables the celebrant's chance to extemporize. Cardinal Heenan's prophecy that only women and small children would still attend the reformed Mass was realized in the latter half of the 20th century, and grown, level headed men rarely have an interest in doing female or puerile activities unless they are with their own wives or their own children. Do we expect equilibrated chaps to watch Disney cartoons or sip Cosmopolitans? No, so why should we expect them to spend the entirety of their lives doing something that they knowingly or unknowingly associate at the same level?
Lastly, reform minded bishops might appeal to potential candidates with life experience. This is not to be confused with mediocre professionals looking for second careers. Rather bishops should, as in ancient times, look for mature men with some life experience and a developed sense of self-awareness. Teachers and military veterans have made excellent priests in the United States. Those who enter immediately after high school or college
tend
to be the proverbial mixed bag, spending seven years juggling an undeveloped sense of self with supercilious liberal formulations and mediocre education. Those further on in life would be exposed to the same thing, but would perhaps have a greater immunity and sense of purpose.
None of these suggestions are full proof, even if practiced in their entirety. A nearby Orthodox priest—married with little ones—would have passed most of these theoretical criteria and he still left his life and ministry for his "husband" in the southwestern United States. Still, while certain ailments require specialized medicine and treatment, general hygiene and immunizations have increased the average expectancy. Extirpating celibacy in the Latin Church is not the remedy for our contemporary malady, but some imaginative steps taken by men with a resolute understanding of their vocation might cure a great portion of this affliction.